Hospitality is like a wild flower.
Kiyasuya is a secluded inn in the mountain valley of Sujiyu Onsen, located 1000 meters above sea level in the town of Kokonoe, Oita Prefecture. Our establishment's warmly-textured clay walls and black fences evoke the style of a traditional Japanese home, creating an atmosphere rich in the simple elegance of mountain living.
The area around the inn is full of beautiful natural vistas year-round: verdant foliage in the summer, crimson-red leaves in the fall, and pristine, glittering snow in the winter. We hope this special setting will provide the perfect place for you to relax and take in nature's beauty.
We hope you will enjoy immersing yourself in a hot spring bath in these tranquil, tree-filled surroundings, and let any tension in your soul and body be washed away. In certain seasons, particularly on clear, chilly winter nights, you'll be able to look out on night skies full of more stars than you've ever seen before.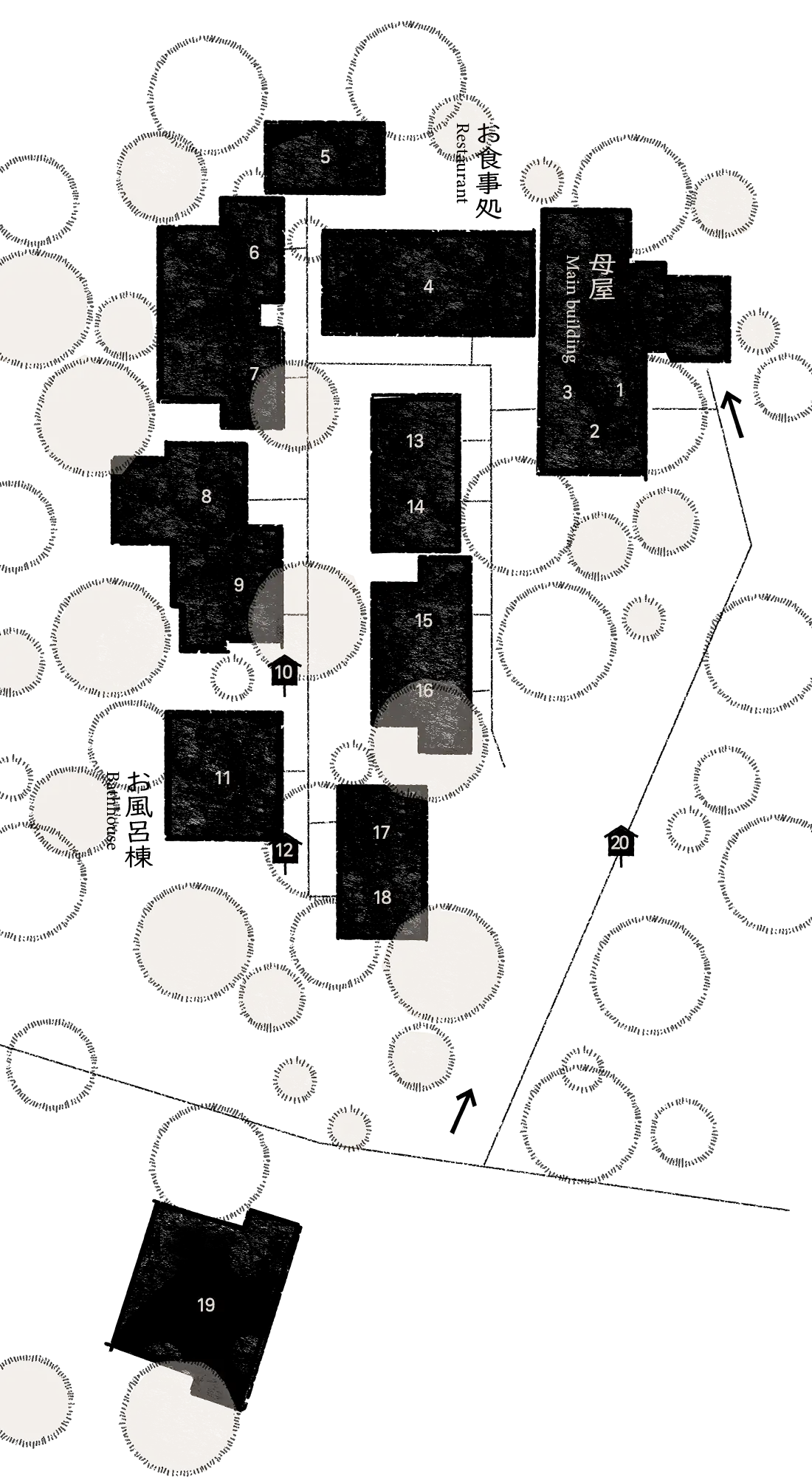 Facilities Map
Kiyasuya consists of several guest villas, a restaurant, private baths, and other facilities spread across approx. 6,600 square meters of natural wooded space.
Front desk
Waiting room with open hearth
Souvenir shop
Restaurant
Family bath
Guest room – Kaze (wind)
Guest room – Sora (sky)
Guest room – Ten (sky)
Guest room – Niji (sky)
Lavatory
Outdoor and indoor baths
Vending machines
Guest room – Hana (flower)
Guest room – Yama (mountain)
Guest room – Tsuki (moon)
Guest room – Hoshi (star)
Guest room – Hikari (light)
Guest room – Sou (weed)
Private outdoor bath
Parking area
Facilities Overview
| | |
| --- | --- |
| Name | Kiyasuya Mountain Valley Inn |
| Address | 527 Sujiyu Onsen, Kokonoe-machi, Kusu-gun, Oita Prefecture 879-4912 |
| Phone | +81-973-79-3341 |
| No. of Rooms/Capacity | 10 rooms/30 people |
| Bath Facilities | 2 outdoor baths (men's and women's), 2 indoor baths (men's and women's), 2 family baths, 2 Private Outdoor Baths |
| Check-in Time | 3 PM |
| Check-out Time | 10 AM |
| Internet | Free Wi-Fi in all rooms |
| Parking Capacity | 10 spaces |
| Wheelchair Accessibility | There are steps in the corridor to guest rooms.*1 |
| Vending Machines | Available |
| Method of payment | Cash or credit card*2 |
Kiyasuya is a member of the Protecting Japan's Secret Hot Springs Association. Guests can receive a stamp in their Japan Secret Hot Spring stamp book by staying with us.
Notes:
Guests travelling with children in elementary school or younger should call ahead for an explanation about facility use with children.
We cannot accommodate pets.
Our staff is available to help guests in wheelchairs.
We accept Visa, Mastercard, a JCB credit cards.